An In-Depth Look at Fiberglass Pool Shells
By definition, a shell is a beautiful yet hard protective outer case that provides support and shelter for its inhabitants. Fiberglass pool shells are no different. They should provide all the beauty, comfort, and leisure you desire, but with the durability that withstands anything that comes in contact with it – weather, salt, chemicals, and swimmers.
In this article, we'll cover what goes into creating a fiberglass pool shell – beauty, amenities, technology, raw materials, and differentiators between manufacturers that set them apart. Well also help you find a fiberglass pool manufacturer and dealer near you.
Fiberglass Swimming Pool Shells
The first fiberglass swimming pool was built by Pascal Paddock, a pioneer of modern swimming pool construction in the early 1900s.  To show you how far the industry has come, this first pool was sold in four pieces.  Today, fiberglass pools are built as one complete shell with complete structural integrity and strength.
Fast forward to today, and many homeowners are choosing fiberglass swimming pool shells as their choice for a new pool. Why?
Today's pool shells are infinitely more durable than their 1950's predecessors
Colour, size, shape, and built-in feature options are abundant
Gelcoats make them soft-to-the-touch and are guaranteed against fading and blistering
The installation time is much faster than traditional pool selections
The maintenance is easier and less costly
The ability to incorporate a salt-water system easily
Fiberglass pools are more welcoming to children and pets
Why Choose a Composite Fiberglass Pool Shell
Besides the actual beauty of today's fiberglass pool shells, one of the many benefits of this swimming pool type is that they come prefabricated from the manufacturer in one piece – ready to install, ready to fill, and ready to enjoy!
Fiberglass pools offer the quickest time to swim because the fiberglass shells are delivered to the excavated site and installed in a couple of hours instead of days or months. In most cases, fiberglass shells can be installed by two certified installers, replacing a team of various sub-contractors. But with concrete or vinyl-liner pools, the installation is a far more complex and lengthy process prone to weather delays and quality control challenges.
Quality at the Highest Level
Every pool owner should be concerned with the quality and construction of their pool. We'll be getting to this top benefit of fiberglass swimming pools at great length in this article. However, at the highest level, quality is layered into every fiberglass shell by the finest craftsmen through controlled environments. By working within a strict, factory-controlled environment, manufacturers can better manage repeatable quality and outcome, with a goal of zero defects. Their quality control allows them to inspect each and every pool that is created to ensure that it meets their highest standards before leaving the production facility and making the journey to your backyard. Alternatively, swimming pools constructed in the field, or specifically a residential property, face countless challenges from weather to the quality of the talent building your pool.
There are three primary choices available to families today when it comes to selecting their own in-ground swimming pool. We have provided a quick glance at what those advantages are for each style of pool in another blog article,  Concrete Vs. Fiberglass Vs. Vinyl liner inground pools. Only you can decide what swimming pool works best for you. However, once we cover how the manufacturing directly impacts your return on investment (ROI) and return on beauty (ROB), we think the choice of a fiberglass swimming pool will be clear.
Industry-Leading Construction Process
Above all else, how a pool shell is constructed for durability and beauty is the single most crucial factor when selecting a pool type. Not all fiberglass swimming pools are created equal. It's essential to know what goes into crafting every layer of a fiberglass pool shell.
Your pool shell will be the centerpiece of your backyard. You'll need to consider what shape suits your landscape, what style melds beautifully with your home's architecture, what amenities will delight you, what pool shell surface will be more inviting and soft-to-the-touch. Most importantly, what pool shell will best protect your investment for a lifetime. Our recommendation is to select a pool shell that won't fade, buckle or crack from years of use or from harsh chemicals or salt, as well as the sun's ultraviolet (UV) rays.
Only a select few fiberglass pool manufacturers offer a lifetime structural and lifetime structural osmosis warranty. That includes Leisure Pools.
We build in quality and beauty with every layer of our fiberglass shells. We use the highest technological advancements – known as Leisure Pools Composite Armour composition. Composite Armour technology was patented from continuous research and development and the finest raw materials, including the use of DuPont™ Kevlar®, basalt and carbon fibers. As a result, we are so confident in every pool that we craft that we confidently offer a Lifetime Structural Warranty and a Lifetime Structural Osmosis Warranty.
Each pool owner's fiberglass shell will be protected on the patented manufacturing process and materials:
Patented Composite Armour Core of Strength
Patented Full Vinyl Ester Resin Construction
Exceptional Quality Control
About Patented Composite Armour™ Core of Strength
This is heavy-duty strength! It is the fiberglass swimming pool industry's most advanced technology available. The patented process reinforces each pool shell, layer by layer. The overall composite of the fiberglass swimming pool shell core of strength is reinforced with a blend of DuPont™ Kevlar®, Carbon Fiber, and Basalt Fiber.
DuPont™️ Kevlar® is used in military and law enforcement applications, such as in body armor and bullet-proof vests. It is also used in aerospace applications and on military vehicles and wind turbines.
Carbon Fiber and Basalt Fiber are also used in the aerospace industry and high-performance automotive applications. Pair them with Kevlar®, and you have a genuinely "bullet-proof" surface that will perform beautifully for a lifetime. These three high-performance materials are virtually impenetrable and are part of our patented Leisure Pools Composite Armour.
Durable AND Flexible
These layers of protection aren't just durable. They're also flexible.
Flexural and tensile strength are vital in composite fiberglass pool shell construction and Composite Armour has plenty of both. Flexural strength (bend strength) and tensile strength (unbreakable under tension pressure) ensure your fiberglass pool shell is strong enough to withstand stresses with ground shifting, swelling, contraction, and extreme changes in weather conditions. Floods, drought, extreme temperature highs, and lows – even snow, ice, and frost — have failed to penetrate Leisure Pools' Composite Armour when the pool has been properly maintained.
Leisure Pools continues to invest heavily in Research and Development to improve upon our industry-leading standards.  Most recently, it has included adding additional layers of support below splash pads and spas to provide greater strength and support while also providing the added benefit of allowing installers to be more secure with their installations.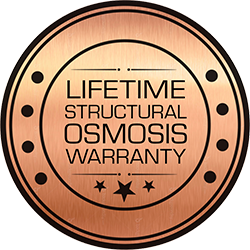 About FULL Vinyl Ester Resin Construction
Most fiberglass pool shell manufacturers incorporate Gelcoat Colour, Vinyl Ester Resin, and structural Polyester Resin in their pool shell construction. However, over the last 20 years, the most important innovation is corrosive-resistant Vinyl Ester Resin added to the fiberglass layer. This high-performance resin adds a protective layer that will make your pool's surface less susceptible to osmosis. In simple terms, this special resin protects the fiberglass against the advancements of water and other chemicals that want to move through your pool layers.
What makes Leisure Pools different from others on the market is that while most apply only a single layer of Vinyl Ester Resin onto their pools, Leisure Pools bonds it into every interior layer. Why? Because using only 100% full vinyl ester resin within each layer of their resin applications provides the greatest guarantee against osmosis (water penetration).  Polyester resin is more widely used because it's a more cost-effective, but it is a LESS effective product. While more costly to produce, a full vinyl ester resin Leisure Pools swimming pool is the strongest insurance you can buy to make sure that your family is swimming safely and and that you have a lifetime of happiness.
The bottom line is that fiberglass shells constructed with only a single layer of vinyl ester resin are far more susceptible to osmosis. This alone is why many fiberglass swimming pool manufacturers cannot offer a lifetime warranty.
Ultimate Top 2 ROI List: Why add Vinyl Ester Resin in Multiple Layers
Dramatic improved structural strength performance over typical polyester resin
Lifetime Structural Osmosis Warranty
AquaGuard™ Colour System
Exceptional radiance and colour that's more resistant against salt and chemicals
Whether you're seeking rich saturated colour or the lightest-cool colour that emulates the sun-drenched tropics, Leisure Pools has got you covered. No matter what colour you select for your fiberglass pool shell, your pool shell will sparkle like diamonds. Water and sun reflect off these high-polished surfaces for a luxurious look and feel.
Customize your fiberglass pool shell with colour range options and styles that reflect (literally) your design sense. These AquaGuard colours aren't just beautiful; they're woven with technology that makes them resistant to UV rays, chemicals, salt, blistering and anything that enters the pool—even the kids and dog.
We're talking grade A beauty and bronze – from the inside out. Guaranteed. Leisure Pools offers a 10 Year warranty through their use of AquaGuard Gelcoat resin finishes.
Aquaguard Bold Colour Range
This is Leisure Pools' most popular colour – bold, crisp, cool, and refreshing. If you're looking to make a bold statement with your swimming pool, Sapphire Blue is the answer.
Ebony Blue is a modern swimming pool design's answer to dramatic. Its stunning deeper, darker shade of blue is sleek and absolutely beautiful. It is a stunning showcase colour that is very contemporary.
Aquaguard Mid-Range Colour Range 
Aquamarine
Aquamarine, Latin for water of the sea, sparkles just like the precious turquoise-coloured gemstone.
Reminiscent of the tropics on a beautiful cloudless day. Crystal Blue represents purity and serenity.
This is a deep grey-blue colour grounded in luxury and contemporary tradition. Graphite Grey is a perfect mid-range within the Leisure Pools colour spectrum.
Aquaguard Lightest Colour Range 
Silver Grey
Offers a more natural approach to swimming pool design. Its silvery-blue shade is soft and subtle.
It is one of Leisure Pools' lightest colour options. It's soft, natural, and relaxing, just like a tropical oasis.
You've learned about the Leisure Pools Composite Armour six layers of protection engineered into all of their fiberglass swimming pool shells. Using the finest engineered raw materials woven for durability and flexibility to withstand anything Mother Nature and the swimming pool chemical companies can throw at them. They're built to last a lifetime with a lifetime structural and lifetime structural osmosis warranty to back them up.
Now add breathtaking AquaGuard colour that sparkles like diamonds – from deeply intense colour to softly serene, and your pool will reflect your personality and of your home.
Yes, beauty and durability are essential to your ultimate pool design and return on investment. However, the final step in the finished design process is the most critical – the surface polish.
Top 3 Polish Pros
The surface polish is the most critical step in the manufacturing process because it's the final bond. It's what makes your colour sparkle, what makes your pool shell's surface silky soft and impenetrable to chemicals, water and salt.
Colour vibrancy and sparkle: The AquaGuard Colour System delivers sparkling options to customize your pool shell's look. Saturated and intense to the palest soft blues only glimmer when the pool's surface is polished to perfection.
Soft to the touch: One of the most significant reasons pool dreamers choose fiberglass vs. concrete swimming pools is that they're soft to the touch. Swimmers won't scrape delicate fingers or toes, and they'll never snag their swimsuits. Fiberglass swimming pools are luxuriously soft underfoot, unlike concrete pools, but far more durable than vinyl-liner swimming pool alternatives.
Impervious to chemicals, salt and water: These high-polished smooth surfaces cost less money and time to keep clean. Dirt and debris are super easy to clean, and algae is far less likely for form. Rough surfaces give dirt and debris lots of opportunities to cling and hide, making it challenging for pool owners to keep clear.
Beyond maintenance, time and effort savings are chemical cost savings. The Leisure Pools final Gelcoat is nonporous, which makes them chemically inert. There is nothing in the final Gelcoat that can alter your pool's water chemistry. This translates to dramatically lower chemical costs versus concrete or vinyl liner pools.
Perfect for Salt Chlorination
The high-polished fiberglass swimming pool surface and protective under layers make them not only ideal for swimming and exercise, but fiberglass is the only pool shell suitable for salt chlorination systems. Imagine having your pool's water equally soft as its surface. Salt chlorinators can deliver soft water without the horrible chlorine smell. While salt chlorinators work seamlessly with fiberglass pools, they are not recommended with concrete or vinyl liner pools. To learn everything you'd like to know about Salt Chlorination, read the 2020 Definitive Guide to Salt Water Pools.
Pool Shell Size and Shape
Swimming pool styles have changed significantly over the decades. The '70s were known for their diving boards and slides, while the '80s and '90s tended to surround their more organic shells with the iconic mansion-fashioned manufactured stone features. Whether you're looking for a simple pool or one with all the bells and whistles, today, you can have it all.
Expansive landscapes lend themselves to any size or shaped pool. However, smaller, more urban settings can pose some unique challenges. For those looking for smaller fiberglass pool shells, read our blog article, "Small Backyard Pools for Small Spaces That Are Big Fun".
Protect your investment
Let's face it, adding an inground swimming pool to your landscape is an investment you need to protect. Strength, beauty, and durability should never be compromised with subpar manufacturing materials.
Superior Quality Control
A lot more goes into building a superior fiberglass swimming pool than high-quality raw materials alone. It takes a collaboration of artisans, engineers, architects, designers, and chemists. Every specialist participates in all production areas with the same laser-focused objective – to produce only superior products that will last a lifetime. This 100% customer satisfaction philosophy goes into every fiberglass pool shell.
Leisure Pools Quality Control
Polymer Chemists are part of Leisure Pools technical center staff
Raw Material Testers review raw materials using an FTIR Spectrometer
Manufacturing Quality Control testing for flexural and tensile strength and cure testing of each layer
Barcoal Hardness testing, burn and boil testing of laminates
Weight management ensures precisely specified material levels are applied
Ultrasonic thickness testing ensures there are no weak points at any point of the pool
White glove testing ensures every finish is impeccable
You're invited to learn more
While there are many more technical points to explore when it comes to deciding what your fiberglass swimming pool, spa or tanning ledge should be, the most important thing to know is that there is extreme amount of advanced technology built into every Leisure Pools product.  This provides you with the best swimming pool product in the world today.
This also gives you the confidence to choose the right design, the right colour and the right dealer to install this high quality product.  To learn more about pricing, timing and the installation needed to place this advanced technology in your backyard, call 855-85-SPLASH (855-857-7527) or contact us for more information or to be connected with your local expert.
We look forward to seeing you by your pool and to the start of your Life of Leisure.
Share This Story, Choose Your Platform!